MOVING SUPPLIES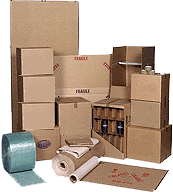 What you need to get started
get good, strong boxes, packing tape, bubble wrap and packing peanuts at moving and truck-rental companies, or most office supply stores. You'll also need permanent markers and newspaper, linens, cushions, and even clothing from around the house that can be used for padding.

Label, Label, Label!
To help make the unpacking process go smoothly, you'll want to be sure that all your boxes are clearly labeled. Pull out those permanent markers and mark each box with a brief description of contents as well as the room in which that box belongs. You can even try color-coding tactics such as placing colorful dots on each box. Choose a color for each room and then make signs for the movers that show which colors go into which rooms. Whatever method you choose, labeling is the key.